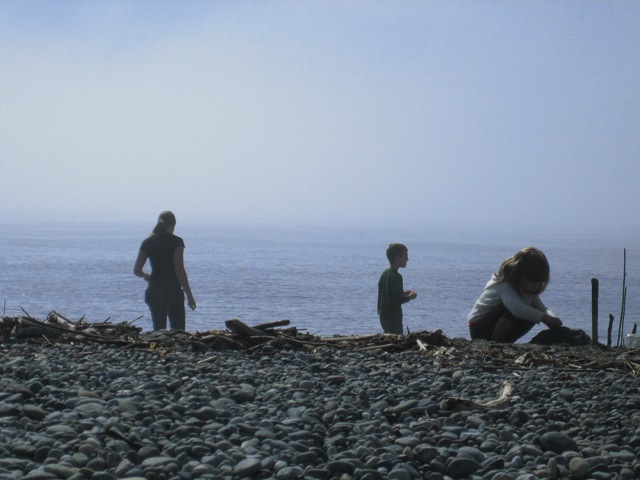 First, accept sand.
Inhale the salt smell of drying seaweed carried on the wind that whips your hair into fantastic styles.
Let the waves mesmerize you and fool your eye into expecting motion from things that stand still.
Hear the slip of small waves against the shore. Watch others do the same.
Follow, with your eyes, the whorls of bleached driftwood branches.
Obsessively hunt for just the right pebble.
Step strategically to encourage squirting clams.
Run fingertips over the inside of a shell.
Jog in the shallows.
Sit in the lee of a log to get warm.
Let your mind roam.
Look for whales.
Listen to the gulls, they'll tell you what's going on.
Watch the silent heron lift off as you come too close.
The kingfisher meanwhile, shrieks at you to get off this ground he considers his, as he flies away to take possession of another spot.
Dig clams, pick mussels.
Just enough for an appetizer.
This keeps the beach inside you for a whole day.
Two days if you keep your clams in cool water and give them cornmeal to eat.
Last, accept sand.
________________________________________________________________________________
I just ran across this. I wrote it several years ago for the website of a former employer. As the site is no longer maintained I don't feel too badly about a little re-purposing.
Thinking of the tsunami damaged beach communities of Japan and Hawaii during this terrible time. We all know the ocean isn't a tame pet, and we all could experience a devastating event any day. I guess I should add one more line:
Accept tsunamis.