We're all introverts now
How are you doing in these interesting times?
I've always been happiest balancing on a log all alone in the wilderness. So the idea of sheltering in place is pretty much heaven for me. This is a hidden reason I work to become proficient at single-handing the boat. Don't tell Tom, but I dream of taking off for the day while he's busy working, or on the latest part buying errand. I would anchor in an empty cove and have a little one-day writing retreat.
But I know there are many extroverts out there who thrive on groups, crowds, and constant interaction. I've seen them. I shake my head. It's safe to assume all of you extroverts are facing a stiffer challenge, having become sudden homebodies, with no one to talk to.
How to be alone – Introvert skills to the rescue
Since I'm pretty good at having a good time while all alone, I have some suggestions for alleviating the cabin fever (pun intended).
Do yoga – stretching and aligning muscles might help with aligning a mind twisted into knots by ever-changing guidelines.
Avoid watching reality TV (too aspirational) and the nightly news (too aggravating.)
Put together puzzles – the more complex the better. It's a way the layman can feel a little solidarity with those who are trying to sort out the problems of logistics, devise treatments and discover vaccines.
Put on music and dance. Personally I do this while sitting too. As I write this, I'm bopping in my chair to the Bollywood Workout on Pandora. Since I don't speak the language the lyrics don't intrude on my thought process.
Tackle those home improvement projects that have been hanging over your head. We replaced a microwave yesterday. It's always something.
Take up a new hobby, or pull out that old one you've always meant to get back to. I'm promising myself I'll start painting watercolors again. Very soon.
Learn to cook from scratch. It's easier than some seem to think and quite fulfilling. Plus it'll prepare you for a possible new normal in which you must cook without mixes and meal kits or starve. You might not want to start with my Shrimp and Grits, but there are a million cooking shows and websites out there to get you going.
Watch comedy movies. For anyone with a taste for the macabre, these two fit nicely with what we're going through.
And of course, there is reading
I could suggest something light and fluffy to take your mind off the current crisis. But instead, I'm going to share some books that take an unflinching look at life during an outbreak. And, okay, one that's pretty fluffy.
Ship Fever
One of the best stories I ever read is a historical novella about a doctor who works on a quarantine island off the coast of Canada.
It's called Ship Fever and is the title story of a collection of equally worthy stories all centered around science. By Andrea Barrett, this collection won the National Book Award.
Highly recommended.
Year of Wonders
For an exploration of what true social distancing is like, there is no better story than Year of Wonders by Geraldine Brooks.
Inspired by the true story of Eyam, an English village that voluntarily quarantined itself during the plague, Year of Wonders goes deep into the sadness of loss and the importance of community while remaining hopeful and beautiful.
Loved this book.
---
Iris Incensed
My own first novel, released last month, includes a scene that takes place in Mary King's Close, an underground section of Edinburgh, Scotland where residents were walled in during the Bubonic Plague. See the video below for a little introduction.
Iris Incensed is a comedic story, but there is a little spook factor to the scenes set in the dark below ground.
(Mary King's Close, like all public gathering places and events, is currently closed.)
---
---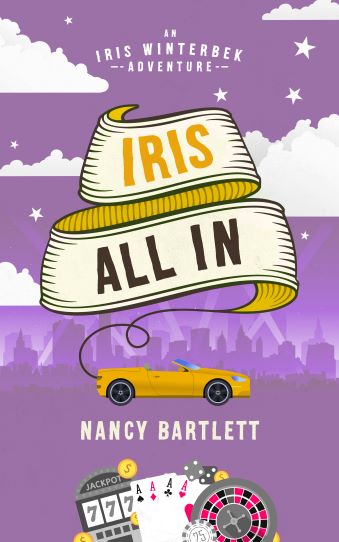 Iris All In
My latest news touches on our current crisis only because I finished the edits and published the second installment of the Iris Winterbek Adventure series while social distancing last week.
The actual story of Iris All In is very social and active with gatherings and chases in crowds such as you would not see these days.
So now it qualifies as escapist fiction.
---
Iris Everafter
The third book of the Iris series will be available by the end of April. Lockdown editing continues for me, but Iris is off on another adventure, continuing her life of escapade and mayhem.
No telling whether the rest of us will be out and about by the time the book is ready,in late April. Either Iris Everafter will bring another opportunity for armchair travel or it'll be a great beach read.
---
Let's Flatten the Curve
What are you doing to keep sane, enjoy your alone time and stay well? I'd love to hear what you're up to. You can share here. We are so fortunate to have the Internet to connect us during these interesting times.