< The Beauty of What's out There – Esquimalt part 1

This part of the story actually starts in Bellingham, in 2007, at my first Sustainable Connections Green Building Conference. The morning speaker that year was Joe Van Belleghem, developer of a Victoria project called Dockside Green. At the time the project was under construction, they were just installing some of the futuristic green technology components, such as the on-site sewage treatment systems that would recycle all the water for re-use throughout the community.
Van Belleghem is an interesting speaker, and he had an interesting story to tell – the story of a brownfield, a contest and a purchase price of one Canadian dollar. Dockside Green, the contest winning design for reuse of the land, would clean the site, contain all the previous industrial contamination, earn LEED certification and sell electricity back to the grid, producing income for the residents. This was all new to me and I hung on Van Bellegham's words, imagining myself as some kind of eco-hero – taking the ideas being integrated into Dockside Green back to my boss' Low Impact Development project in Langley.
Since then, I've been to Victoria at least once each year, but things haven't worked out for me to visit Dockside until this month. With several hours available Sunday morning, we left the hotel without even having coffee and headed to Esquimalt because Van Belleghem had promised there would be shops, offices and most important, cafes intermingled with residences throughout his new community. We found just one cafe. There may be lots more, but as Caffe Fantastico turned out to be exactly what we were looking for we didn't explore further.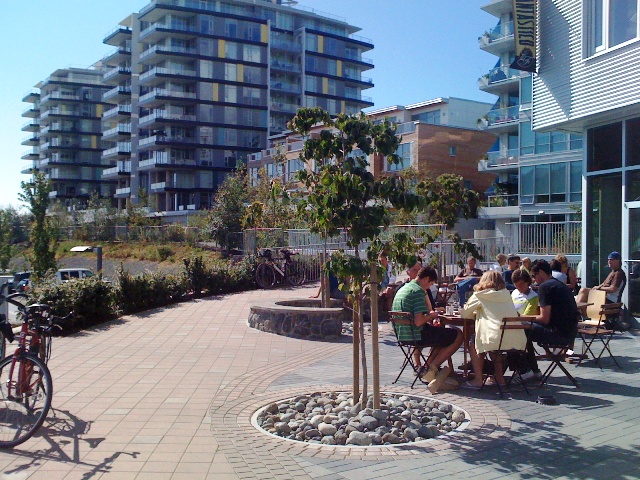 The cafe, along with the weather, seemed designed to make us love the project. The design was intriguing, the coffee rich, my sausage roll, though wincingly expensive (as all food in Victoria seems to be these days) was flaky and succulent. And once we'd finished breakfast we could hardly pull ourselves away from the sunny terrace overlooking the waterway. On one side of us was a group speaking French, on the other German. The entire complex could have been lifted out of a European city. The view on offer was not of pristine wilderness. But the working, urban waterway offered unusual things to look at and was alive with kayaks, and rowing shells. Sated and charmed we walked the length of the campus along the stream that is an integral part of the water management system. Dockside itself is the point at which nature is being reintegrated. Designed for people to walk and sit, planted with native vegetation it's beginning to form a buffer between industry and residential areas.
So where exactly is this paragon of progressive architecture? In general, it's located in Victoria, BC, on Esquimalt, a large peninsula that shelters Victoria proper from the wind and waves of the Strait of Juan De Fuca. Historically this section of Esquimalt has been an industrial area. So, more specifically, Dockside sits on a rise, behind a shipyard.
This was the eye-opening aspect of the project for me. I knew the site was formerly industrial, but I didn't know the area around was still engaged in industry. As I live in a neighborhood where residents seem to be locked in an eternal battle to keep the local boat yard under control, if someone told me that a developer could integrate a desirable residential project into one I'd never have believed them. But after spending an hour or so at Dockside Green I'm now looking at Nichols Brothers with new eyes.
What if the dynamic of the neighborhood could be changed so that neither the company nor the residents felt like the other party was the problem? What if we worked together to make the fact that a boatyard was here a desirable, rather than a negative aspect of the area? Currently we residents have to act as Nichols watch dogs, calling the sheriff to complain, or taking pictures of violations and turning them in to the state Dept of Ecology as our only means of getting them to reduce the noise or stop letting sandblasting debris escape their covers. Meanwhile, they see the people who live around them as impediments to doing business. Needless to say, this is not a good dynamic.
Perhaps my neighborhood needs to take a mass field trip to Victoria to talk with the members of the Dockside Green community – both residential and commercial. It could be that they are challenged as much as we in their quest to coexist. But one thing is certain, I wanted to be there, sitting right across from that shipyard, because the people who planned Dockside made it a wonderful place to be. Just ask the ducks.
Nichols also sits on the beachfront. Ducks paddle and herons wade there too. With a little planning the area could be made more inviting, or to be more precise, it could better capitalize on it's very inviting nature.
A beautiful, sustainably designed cafe would be a nice start.