One of my heroes passed this week.
Jan Holmes lived with cancer for several years, but she didn't let that stop her from trying to tell everyone in the Puget Sound region about the wonders of marine creatures. She seldom even slowed down her work for WSU Island County Beach Watchers.
Though I never did a formal profile of Jan, she has been part of Tidal Life from the beginning. In December of 2009 she appeared, wading across the mudflats on a snowy night in search of eelgrass samples. Just last year she was honored as the 2010 Cox Conserves Hero for Western Washington for her contribution to environmental science to safeguard the health of Puget Sound. She also figured prominently in Watching the Eelgrass Grow, an earlier blog I published when we first started the Eelgrass Mapping Project.
Whether teaching newbies how to identify the creatures they found on the beach, managing the annual Intertidal Monitoring program or handling the underwater camera as it skimmed along the sea floor to check out the habitat, Jan was always, infectiously, in action. In fact, just a few weeks ago she was up in Vancouver, presenting a poster about the eelgrass project at the Salish Sea Conference.
Under the name Periwinkle Press, she and her friend Mary Jo published the EZ-ID species identification cards for naturalists to use on the beach. In her "free time" she painted whimsical watercolors of Whidbey and underwater scenes.
Indefatigable is the one word to characterize Jan. She was always active, upbeat and engaged. She made things happen. Many have been inspired to emulate her, few have succeeded.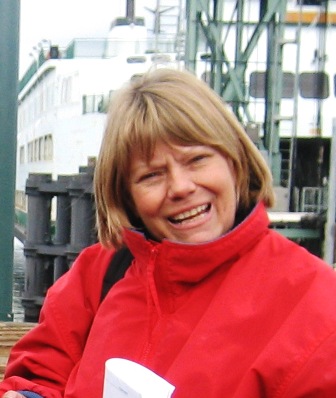 Jan lives on in the ongoing programs she started for Beach Watchers, in the useful tools published by Periwinkle, in her art and in the hearts of every new Beach Watcher who ever tried to memorize the Latin names she rattled off so easily.
She'll be especially present to anyone who spent time on the beach with her. Every time we turn over a rock, we'll hear her excited call, "Oh, look, look, look!"
That was Jan's magic. She made it impossible not to share in the wonder she found.